AP and APSS electromechanical hatch lifting systems have been especially designed for marine pleasure boats, completely marinized and made of resistant materials that do not need maintenance.
These products allow opening and closing, even in part, of any heavy door, engine box, hatch or other equipment on your boat, eliminating manual effort.
With their use it is possible to lift the hatch to any desired position from closed to full open by activating a switch.
TOTAL SAFETY is guaranteed by the self locking mechanism of the actuators that prevents accidental hatch closing.
In case of power failure an emergency device allows a MANUAL OPENING
The actuators meet with the current ANTIDEFLAGRATION requirements.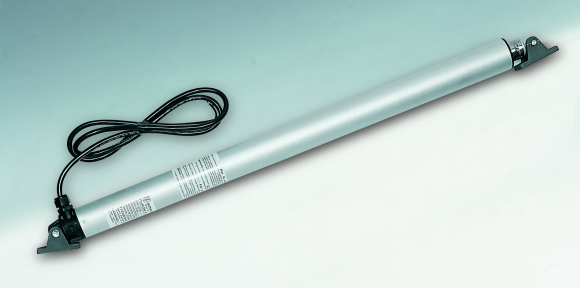 TECHNICAL FEATURES

According to the load required, the AV hatch lifter can be mounted individually, or in twin cylinder installations for heavier loads. It is also possible to install more then two AV actuators in multiple applications.

Maximum load for single installations: 1200N (120 kg - 265 lbs)

Maximum load for dual installations: 2400N (240 kg - 529 lbs)

Maximum load is recommended not to be exceeded.

Supplied with all mounting hardware.

Stainless steel telescopic ram for manual operation in case of emergency.

Available on request without manual emergency opening device for high performance boats.

Circuit breaker to stop accidental overloading of the system and electronic stop at closed or full open position.

IP 65 protection rated

Speed: 25mm/sec no load applied, 17 mm/sec maximum load

Current absorption in single installations: 10A at 12V, 5A at 24V

Current absorption in dual installations: 20A at 12V, 10A at 24V

AV 12VDC models are Ignition Protected. UL1500 - ISO8846 approved.

Warning: The AV Series hatch lifters can be opened freely in the event of power failure, and can therefore
open while underway. The AV Series hatch lifters are not intended for use on high performance boats or in
applications where the hatch may open unintentionally. For these applications we recommend the AV-L series
LOCKING hatch lifters, which stay locked when the actuator is in the closed position.
AV SERIES - Single installation
AV 3012 - 12 V - stroke 12" (300 mm) $655.00 Your Price $466.00
AV 4512 - 12 V - stroke 18" (450 mm) $720.00 Your Price $486.00
AV 6012- 12 V - stroke 24" (600 mm) $788.00 Your Price $541.00

For locking add the letter "L"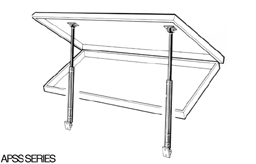 APSS SERIES - Installation in pair
This series allows the use of two actuators mounted on the same big and heavy hatch eliminating manual effort and hinge torsion
AVSS 3012 TWIN- 12 V - stroke 12" (400 mm)
Your Price $932.00
AVSS 4512 TWIN- 12 V - stroke 18" (450 mm)
Your Price $972.00
AVSS 6012 TWIN- 12 V - stroke 24" (600 mm)
Your Price $1,082.00



Click to view More Technical Details

FEATURES AND TECHNICAL SPECIFICATIONS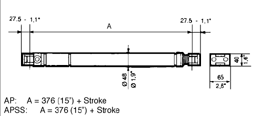 Available in a locking configuration for high performance boat
Circuit breaker to stop accidental overloading of the system
Waterproof
Stainless steel telescopic stem for manual operation in case of emergency
Voltage supply: 12V or 24V DC
Available stroke: 12", 18" and 24" (300, 450 and 600 mm)
Different strokes available on request.
Speed: 18 mm/s with no load - 14 mm/s under load
The actuator of the AV systems are complete of electronic card and mounting brackets.
The APSS systems include linear actuators, power unit and mounting brackets.